Prepare yourself by getting

passwords accounts.
Total downloads 948129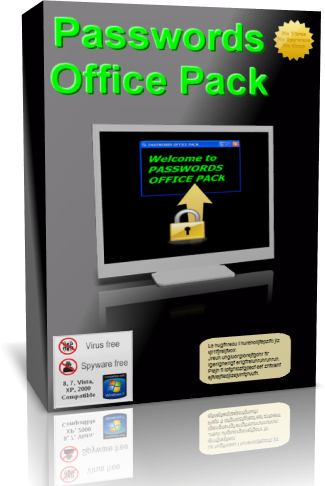 Before strating to download, please read the rules:
1. Our FREE software is made to help users. Don't use it on other
accounts than yours. Please also respect the law of your country.
2. Downloading updates are FREE and available once per month.
Uninstall your software and download again the setup file of your application
from the website and reinstall it. Software IS NOT for resale.
3. If you have any question, please read the help file before contacting the support.
4. Due to super high demand of downloads, we periodically close the website.
This is in order to have enought control of the applications on the web.
Since 03-01-2019 the website is OPEN and FREE downloads are available.

What is Passwords Office Pack?
PASSWORDS OFFICE PACK let you retrieve all your lost
passwords on your computer.
This software can find passwords from:
-FACEBOOK
-TWITTER
-Outlook
-Windows Mail
-MSN Messenger
-Internet Explorer 6, 7, 8, 9
-MSN Explorer
-Http/Ftp Internet Explorer
-Hide PART (Protected Storage)
-RAS
There are 10 ways to retrieve a lost password on your computer!